Agile NANO UAV Tested by U.S. Troops
Submitted by tatwood on Wed, 06/20/2018 - 13:18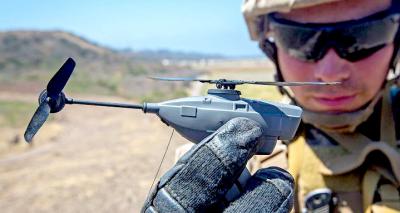 Stripes.com notes that the new bird, also referred to as a NANO UNMANNED AERIAL VEHICLE, appears to be very similar to PD-100s tested in Afghanistan by the British military, which has also purchased Black Hornets for use by regular ground forces. 
Thanks to CDR David Place (USN/Ret), davidplace47[at]gmail[dot]com, and Robin E. Alexander, President ATC, alexander technical[at]gmail[dot]com, for their assistance with this report!

David offers a free, comprehensive news report on unmanned systems and robotics in PDF format, from which this news update was sourced. To be included in his viewership, simply email a subscribe request to David and please let him know you sourced the opportunity here.