RoboBusiness 2016 Highlights with Behind the Scenes Interviews
Submitted by tatwood on Sat, 12/03/2016 - 15:20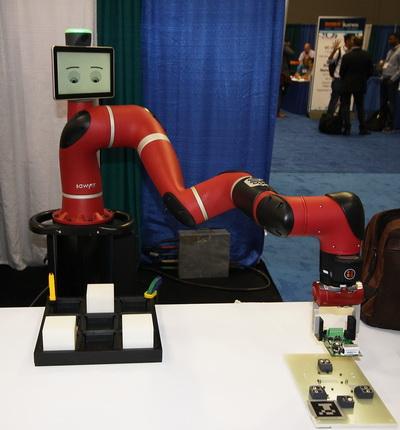 RoboBusiness 2016 Highlights
       Presented by The National Robotics Education Foundation
The 12th Annual RoboBusiness conference and trade show – a highly anticipated exhibition of state-of-the-art robotics – was held in Silicon Valley at the San Jose Convention Center on September 28 – 29, 2016.  These conference highlights are provided courtesy of The National Robotics Education Foundation (NREF), www.the-nref.org.  One of the largest robotics conferences in the nation, this prestigious gathering featured the latest in bleeding edge automation.
Tom Green on The Robotics-based 4th Industrial Revolution
Tom Green, formerly editor-in-chief of Robotics Business Review, presented an industry overview. Tom noted that China, Japan and Korea are at the forefront of the new robotics-based "4th industrial revolution."  Green recounted how Fanuc and Cisco created feedback loops that enabled "zero downtime" production, generating $80million in savings this year, alone.  He observed that other feedback loops in data collection revealed why parts fail and how to manufacture better products as the factory floor evolved into a research laboratory. View Green's fascinating talk, here. 
[Editor's note: Today, Tom Green is Editor-in-Chief of Asian Robotics Review, which we highly recommend for an Asian and global perspective on the next several years in the development of robotics applications, hardware and software.]
RoboBusiness 2016 Presentation: The Robots in Our Future
HP Fellow, VP, and innovative inventor Will Allen holds 70 U.S. patents. He is experienced in the founding of new technologies and in their commercialization. In this lively talk at RoboBusiness 2016, he brings a fresh perspective to predicting the robots in our future and the timing of their deployment. View Presentation
SRI MotoBot, Micro Robots, Control Feedback Systems & Abacus Robot Drive
SRI International is a pioneering robotics company that you want to watch! Robotics division mechanical engineer Mike Stevens addressed the amazing tech in development at SRI. A current SRI focus is a life-size humanoid robot that rides a motorcycle, called MotoBot. It is a collaborative effort between Yamaha and SRI, and is a fully integrated technology system that drives a YXF-R1M motorcycle. It includes robotic transmissions and high efficiency motor controllers as well as standard bike handlebar and foot controls.  That's just one of several robotics arenas, from micro-robots to new, near-frictionless drives, addressed by Stevens in this must-see exclusive interview.
ViewInterview
The KOBI Company wins Pitchfire Competition
RoboBusiness 2016 was brimming with technological advances and entrepreneurial spirit, and the Pitchfire program was one more exciting element in the mix. In this competition, judges vote for the most promising entrepreneurial launch based on 2-minute presentations delivered in a fast-paced competition open to the public. At the end of the first day, The Kobi Company won the competition based on its autonomous robot that can maintain your lawn, clean up leaves and remove snow from your grounds. Read Full Story
RETHINK ROBOTICS Collaborative Robots Herald a New Era
Jim Lawton, Chief Product and Marketing Officer, Rethink Robotics, explains that their new generation of collaborative robots are safe, inexpensive, and designed to work side-by-side with humans.  There is no need for a protective cage. Moreover, one of their latest collaborative robots, Sawyer (shown), can be "trained" through interaction with a human collaborator.  View interview and demo, here.
Humanoids for Disabled Children, Companionship and Mentoring
Next year, AvatarMIND will be moving from Nanjing, China to the U.S. where these remarkable humanoids will be used in healthcare to develop therapies for autistic children, and in other markets as companion robots. The Price point will be relatively low compared to earlier humanoid robots, CEO John S. Ostrem notes, which will allow far greater access to these helpful avatars. John offers details, here.
Motion Capture for Anything Robotic Real or Virtual
Based in San Leandro, CA, PhaseSpace offers motion control solutions for research, industrial arts and graphics arts communities.  Anything "motion" so consider this a must view for both real world and animated robots of any type that crawl, burrow, slither, walk, swim or fly!  McSheery explains, here.  
SIEMENS Champions a Technological Future with Global "NEXT47" Initiative
This is the first of four exciting interviews with SIEMENS from RoboBusiness 2016.
SIEMENS AG is a global organization that focuses on power management, automation, digitalization, medical technologies, robotics, and far more. Several of SIEMENS robotics divisions exhibited at RoboBusiness 2016. These included a new initiative, "Next 47," that fosters the development of entrepreneurial start-ups, worldwide. Dr. Rudolf Freytag, CEO of Innovative Ventures at Siemens, described Next 47's global reach and how it assists robotics business start-ups in meeting regulatory, financial and marketing challenges. Please click here for Dr. Freytag's fascinating introduction to Next 47: https://vimeo.com/185380370
Launching Robotics Entrepreneurs from Siemens in Berkley
Carolin Funk, Venture Director of Technology, Siemens, works out of the Siemens' Berkley, CA, office.  On the leading edge in the Next 47 project, Carolin helps companies like Modbot (please see our earlier Modbot news release) get established. Click herefor her informative comments on launching an impressive range of technology start-ups.
MODBOT Robotics Launch Boosted by Siemens Next47
Modbot was founded by Daniel Pizzata and is one of the start-ups offered business support by Siemens. Modbots are modular robots and robotic components that can be used to augment mechanical processes on a production line and in other automation contexts. Modbot was founded to make these modular systems widely available to industry. Daniel offers key details, here.  For more on Modbot, click here.
SIEMENS Software Takes the Microsoft Hololens into New Applications
At RoboBusiness 2016, Moshe Schwimmer, Innovation Catalyst at Siemens, described software Siemens has created for the Hololens (a Microsoft product that enables visualization of virtual robots and robot parts). Using a pair of Hololens goggles, one can see virtual parts superimposed on your office table, or suspended in the air, in what is described as "augmented reality."  Click herefor Schwimmer's thoughts on the benefits of designing machines using virtual reality tools—a technology of the future that is here, today. 
Interviews in this series were produced by NREF videographer Gene Beley
https://vimeo.com/user2237027, and hosted by NREF executive director, Tom Atwood, tatwood@the-nref.org, tatwood5@gmail.com.  Presentations were recorded by Gene Beley.  NREF is a 501c3 nonprofit that indexes and points to robotics-based STEM curricula and provides selected product reviews and news reports on an ongoing basis.
If you are running an event or launching a product or initiative that you would like to see covered on our website, or if you would like to contribute to our coverage with an article or multimedia video, please email your proposal(s) to Tom Atwood at the above link—thank you!
© 2016 The National Robotics Education Foundation