Home
Latest Robotics News
---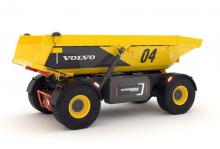 07/03/2020
The TA15 autonomous electric hauler, built by Volvo Autonomous Solutions, won the prestigious Red Dot Product Design Award in what is reportedly the world's largest and most distinguished design competition. The battery-powered electric truck carries Lidar, Radar, GPS and other sensors for autonomous operation.
Read Full Story
---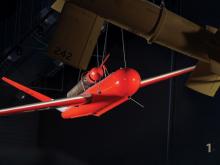 07/02/2020
In an interesting reflection on unmanned systems aviation history, the # 20 - 13 - 27 JUNE 2020 edition of the UNMANNED SYSTEMS NEWS (USN) describes the primitive origins of today's ubiquitous drones: "In the 1940s, Drones Were Just Something for Navy Gunners to Shoot At (These were TRUE DRONES not UAVs). These were Radio-controlled, gyro-stabilized, and powered by an externally mounted, gasoline-powered pulsejet engine, which used a design similar to the German V-1 rocket to deliver 55 pounds of thrust. The 'Katydid' was one of the most sophisticated UAVs of the mid- to late 1940s. Recognizable by its distinct V-tail, the 320-pound drone could be launched via an AT-1 catapult or released from the bomb rack of a PBY-4 Catalina, at which point gunners would attempt to draw a bead on it."
Read Full Story
---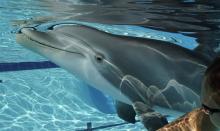 06/27/2020
This remote-control cetacean was designed by San Francisco's Edge Innovations in conjunction with Walt Conti and Roger Holzberg, the former Creative Director/Vice-President at Walt Disney Imagineering. The initial prospects for the bottlenose dolphin robot include Chinese theme parks and aquariums. Edge Innovations hopes to sell up to 150 over three years. With mechanics and a center of gravity designed to help it faithfully mimic the swimming of the live animal, the robot bottlenose dolphin can swim for 10 hours on a charge.
Read Full Story
---
---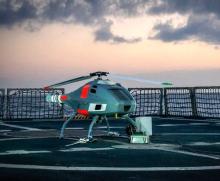 06/25/2020
CUAS News reported that "Europe's leading provider of Rotary Unmanned Aerial Vehicle (UAV) platforms, UMS SKELDAR, will host a webinar to formally announce its new contract win with the Belgian and Dutch Navies." The deal will be the first to use the "Toolbox" concept, in which a variety of autonomous UAVs and underwater vehicles (AUVs) will work in unison. SKELDAR V-200 was selected owing to its advanced heavy fuel engine. It is equipped for day or night surveillance and 3D mapping. First deliveries are scheduled for 2023.
Read Full Story
---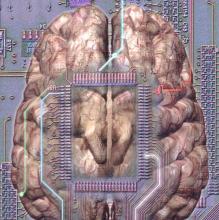 06/24/2020
MIT researchers described the "brain-on-a-chip" technology in a recent Nature Nanotechnology article. Tens of thousands of artificial brain synapses, "memristors", made of silver and copper alloys comprise the chip. These alloy-based synapses are said to be more efficient than previous non-alloy versions. The research represents a step toward "neuromorphic devices" that mimic the brain's neural architecture.
Read Full Story