"WE COME IN PEACE", a practical discussion of the impact of AI, today
Submitted by tatwood on Wed, 10/25/2017 - 16:10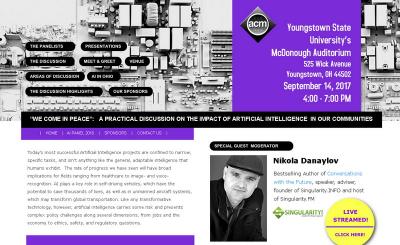 Coordinated by C-TEST Labs in conjunction with the Youngstown State University and co-sponsors, the program was sub-titled "A PRACTICAL DISCUSSION ON THE IMPACT OF ARTIFICIAL INTELLIGENCE IN OUR COMMUNITIES".  We recommend these presentations to all who have an interest in AI. These speakers are leaders in the field and many of their contributions have influenced and benefited our reporting at NREF over the years. Please click here to see program highlights!

 
The Panelists

•Nikola Danaylov|
(Moderator)
Singularity Keynote Speaker
Blogger and Podcast Host

•Paul Carlson
Intelligent Community Strategist
Columbus, Ohio

•Andrew Konya,
CEO of Remesh
Cleveland, Ohio

•Doug McCollough
Chief Technology Officer
Dublin, Ohio

•Dr. Jay Ramanathan
Humanitarian Engineering Center
Ohio State University

•Dr. Mark Vopat
Political Philosophy,
Technology Ethicist,
Youngstown State University

•Dr. Shiqi Zhang
AI and Human-Robotics Researcher
Cleveland State University

 
Event Sponsors

AIJ: Financial sponsor through "Funding Opportunities for Promoting AI Research".
Youngstown State University, Computer Science and Information Systems Department

AWH of Dublin Ohio

Oak Hill Robotics Makerspace

National Robotics Education Foundation

CTEST Laboratories

Dr. James Dale Ethics Center: Venue/promotion sponsor

Cleveland Machine Intelligence Meetup: Promotion sponsor

ACM SIGAI: Promotion sponsor

YSU ACM-W Student Chapter: Promotion sponsor.