20 Fully Funded Master's Scholarships In Robotics to be Awarded Worldwide!
Submitted by tatwood on Tue, 10/23/2018 - 17:28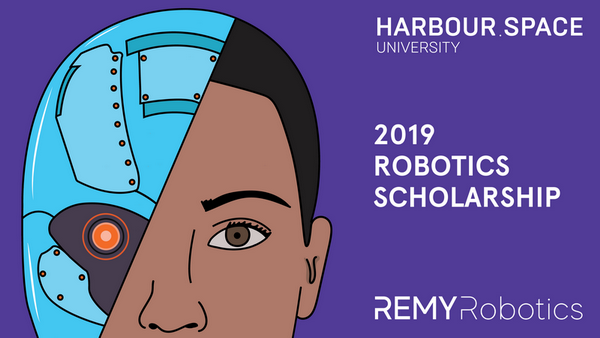 Harbour.Space is an international private university based in Barcelona, Spain, that combines entrepreneurship, technology and design.  We offer innovative university degrees taught in English by industry leaders from around the world.  Our students develop the assets they need to shape the world of tomorrow.
This year, we've partnered with Remy Robotics, the latest project from technology investment group Kinetic, to offer top students the unique opportunity to study at Harbour.Space in our Master's Robotics program. This includes a full scholarship, in one of the most vibrant cities in the world. Those who undergo this experience will spend a year they will never forget.
The program begins in January 7, 2019. Deadline for applying is November 12, 2018.
The scholarship value is €34,900 (approximately $40,018.00 USD), and it includes:
• Complete coverage of the University tuition fee (€22,900)
• Living allowance (€1,000 per month during 1 year)
• Internship at Remy Robotics (20h per week during 1 year)

Harbour.Space's Robotics Program
Harbour.Space's Robotics program is the bridge between a personal interest in Robotics and Artificial Intelligence (AI) and a top-level professional future in one of the most exciting and fastest growing fields of technology.
The HSU Robotics Program will provide students with:
• The knowledge they require to understand the framework around computational systems, how these systems interact with the physical environment, and how these systems function in, relate to, and can be used to improve human society.
• The practice they need to build on this knowledge. Students will study at the University and then apply their knowledge when they work for 4 hours a day.
• The door to connect with, and eventually become, industry leaders of the future.
• The experience that will change their lives. Barcelona is a thriving entrepreneurial hotspot on the coast of Spain and a gorgeous city at the heart of Europe's international culture.
Program Prerequisites and Requirements
The Harbour.Space is defined by excellence.
Our community is comprised of some of the foremost robotics and AI leaders of our time. The winners of our Robotics program scholarship will be no different.
Candidates are not required to have previous experience in robotics—however, they are strongly encouraged to have backgrounds in either mathematical or technology related disciplines, preferably physics, engineering, and computer/data science.
We welcome motivated individuals—technology enthusiasts who can work effectively both in teams as well as in isolation, individuals who have the humility and the passion to learn when they don't know, and who have the drive to step up and lead when it is asked of them.
How to Apply
The application deadline is November 12th, 2018.
To apply for the scholarship, please visit this page.
Once you have submitted it, we will contact you with more information about how to proceed.
If you have any questions about our Robotics program, please feel free to contact Harbour.Space University at info@harbour.space.
------------------------------------------------------------------------------