After Initial Ban, Pentagon Approves 5 Small Commercial Drones for Troops
Submitted by tatwood on Tue, 09/08/2020 - 18:08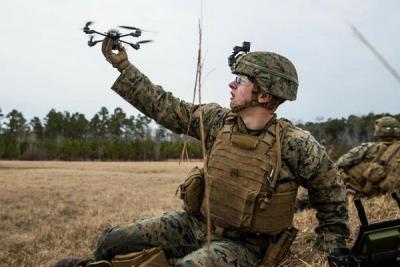 As shown at Military.com, U.S. Marine Lance Cpl. James R. Fiers, Jr., a rifleman with Battalion Landing Team, 2nd Battalion, 6th Marine Regiment, 26th Marine Expeditionary Unit (MEU), releases a drone during a live-fire platoon attack on Camp Lejeune, N.C., Jan. 17, 2018. (Tojyea G. Matally/U.S. Marine Corps).

Thanks to CDR David Place (USN/Ret), davidplace47[at]gmail[dot]com, and Robin E. Alexander, President ATC, alexander technical[at]gmail[dot]com, for their assistance with this report, the background for which appeared in their # 20 - 18 - 7 SEPTEMBER 2020 edition of the UNMANNED SYSTEMS NEWS (USN).
David distributes the Unmanned Systems News (USN), a free, comprehensive newsletter in PDF format every week or two, as well as serial news flashes, from which this NREF news update was sourced. To be included in his distribution, simply send David a subscribe request to davidplace47[at]gmail[dot]com.