Amazon's Acquisition of Kiva Systems & its Impact on Warehouse Robotics
Submitted by admin on Mon, 04/18/2016 - 14:25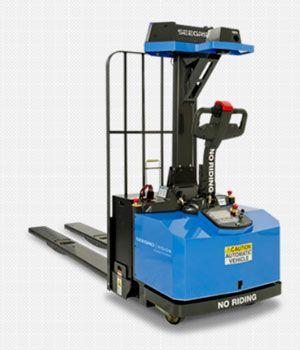 The Robot Report, www.therobotreport.com (TRR), run by business and news commentator Frank Tobe, continues it's progressive coverage of robotics markets and business developments with a report on the unfolding market consequences of Amazon's March 2012 acquisition of Kiva Systems for $775M.  Kiva had set the standard in warehouse robotics technology, and Amazon quickly assimilated Kiva into its fold.  One of the questions was where this left Kiva's previous client base, very well served prior to the Amazon acquisition.  By all accounts, Amazon has reached out to these clients and market growth has been spurred as new entrants emerge to help fill growing demand. 
Tobe reports that the emergence of new providers was evident, for example, by the showing of new startups at MODEX 2016. Held in Atlanta, this was a massive "materials handling" technology show with nearly 900 exhibitors and over 25,000 attendees. If you have seen implementation of robotic picking in a modern warehouse (and we have), the new material handling technologies are startling to behold.  Robots pick trays from warehouse locations and bring them to human packers, who work within feet of the loading docks where transport trucks are parked.  Workers no longer trudge down long aisles to find product trays; rather, robots bring trays to the checkout area and workers pick products and parts. The ever-patient robots then return the tray to its warehouse location, where other bots replenish the inventory.
The engineering of the robots that have taken over warehouse duties is a remarkable story in itself, as you can see in this video Tobe points to at: http://robohub.org/meet-the-drone-that-already-delivers-your-packages-kiva-robot-teardown/.
The article includes an impressive listing of links to the universe of fulfillment systems, including Locus Robotics, 6 River Systems, Magazino, InVia Robotics and many more.  Tobe's capsule descriptions tell of robots that recognize, select, grip and place merchandise in a dynamic warehouse environment, all to assist human workers. Tobe delves into mobile platforms as well, and don't miss his pointers to the latest vision-guided robot technology—one of the most exciting arenas emerging today.
--the editors