Army to launch light robotic combat vehicle competition in FY23
Submitted by tatwood on Tue, 05/10/2022 - 20:16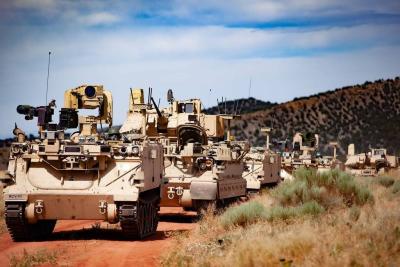 As depicted in this image, in the summer of 2020 at Fort Carson, Colorado, modified Bradley Fighting Vehicles, known as Mission Enabling Technologies Demonstrators, and modified M113 tracked armored personnel carriers, or Robotic Combat Vehicles, were used for the Soldier Operational Experimentation (SOE) Phase 1 to further develop learning objectives for the Manned Unmanned Teaming (MUM-T) concept. Photo courtesy of the U.S. Army.

Defensenews.com reports that the Army will launch a competition in fiscal 2023 for a light robotic combat vehicle and plans to spend nearly three-quarters of a billion dollars over the next five years on the effort, according to the Army's FY23 budget justification documents. The Army will continue a phased surrogate prototype program for Robotic Combat Vehicle-Light (RCV-L) with QinetiQ North America, which won a contract in early 2020. The service plans to flow data and lessons learned into its full-system prototype competition.

The surrogate prototype — a diesel-electric hybrid — to be built by QinetiQ will include an integrated camera and radar perception sensors and payloads such as the Common Remotely Operated Weapon Station-Javelin and tethered unmanned aircraft systems.

The vehicle has a gross weight of no more than 8,500 pounds and a maximum payload of no more than 7,000 pounds with a top speed of about 40 miles per hour, according to the Army. The Army will then select up to five vendors to provide two bid samples for evaluation for full-system prototypes. The service will release a request for proposals in the third quarter of FY23, according to the documents, and make contract awards to vendors in the fourth quarter of FY23. In the fourth quarter of FY24, the Army plans to choose a single vendor to build the full-system prototype. Testing on that prototype will begin in the first quarter of FY26 and wrap up in the final quarter of that fiscal year. The service will decide on its next steps in the second quarter of FY27.

Thanks to CDR David Place (USN/Ret), davidplace47[at]gmail[dot]com, and Robin E. Alexander, President ATC, alexander technical[at]gmail[dot]com, for their assistance with this report, the background for which appeared in # 22 - 8 - 5 MAY 2022 edition of the UNMANNED SYSTEMS NEWS (USN).
David distributes the USN, a free, comprehensive newsletter in PDF format every week or two, as well as serial news flashes, from which this NREF news update was sourced. To be included in his distribution, simply send a subscribe request to davidplace47[at]gmail[dot]com.