Autonomous Drones to Deliver Medical Supplies in Rwanda
Submitted by tatwood on Fri, 07/01/2016 - 15:40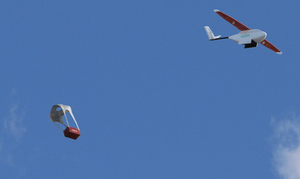 Reporting from InsideUnmannedSystems.com, Vicki Speed offered a snapshot of the first planned implementation later this summer of drones autonomously flying urgently needed medical supplies to remote sites in Western Rwanda, Africa.  20 hospitals and health care centers will start receiving blood shipments. A California-based robotics company, Zipline, is organizing the project. Zipline CEO Keller Rinaudo noted, "We've built an instant delivery system for the world, allowing medicines and other products to be delivered on demand and at low cost, anywhere."
Each custom-built drone, called Zip, weighs approximately 10 kilograms and can carry 1.5 kilograms of medicine. Zips are being fielded in fleets of 15. Remarkably, the drones can fly a 150 kilometer roundtrip (93 miles, or 46 miles each leg) on a single charge. Engineers from Zipline and Rwanda will manage operations. Extensive testing is planned with respect to speed of delivery and temperature control.
Zipline executives believe once the program gets started, its autonomous aircraft will be able to make 50-150 deliveries a day. The firm expects to deliver the first fleet of drones to Rwanda in July 2016 with initial flights beginning in August. Zipline plans to expand the project to the eastern half of the country in early 2017.
Can the delivered supplies be maintained in the cold supply chain? Can they be stored efficiently at the required 2-8°C range? Is it cost-effective as compared to more conventional ground based delivery methods?
"We are testing how fast we can deliver the product," he added, "and if that timeframe falls within the safe range of refrigeration to ensure quality. We'll be testing the efficacy and potency of the delivered product to make sure it complies with the international standard."