BADASS Redefines Electric Motor Technology Standards!
Submitted by tatwood on Sat, 10/26/2019 - 23:32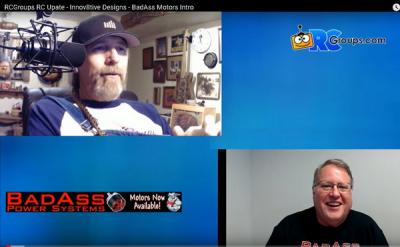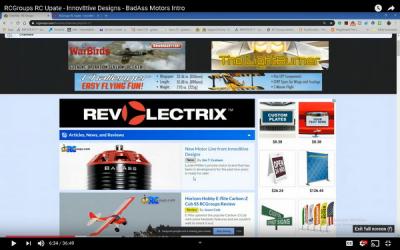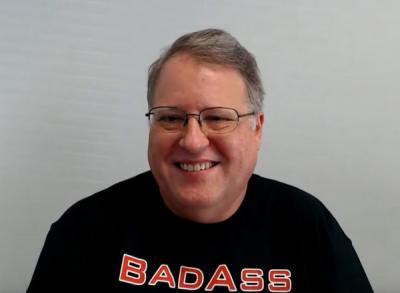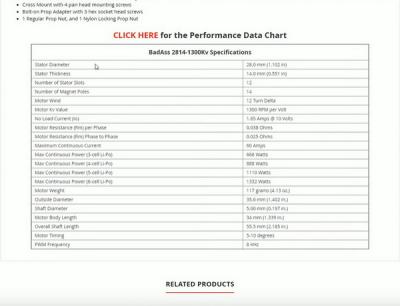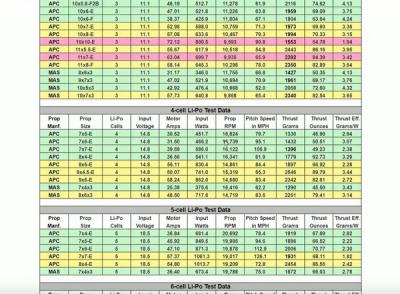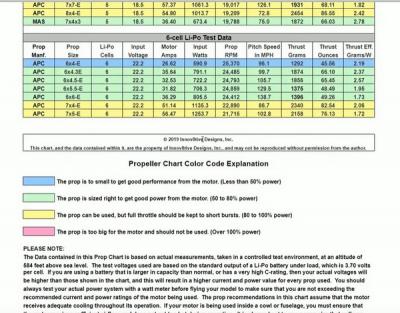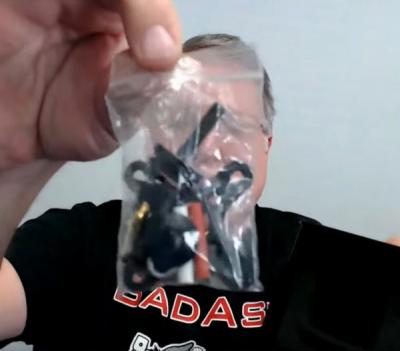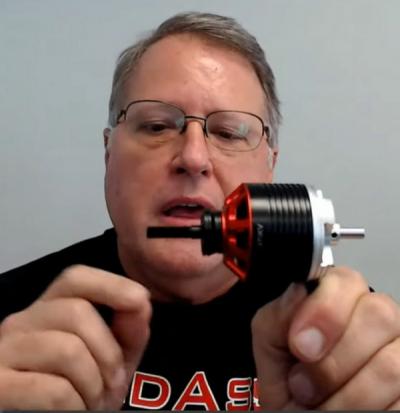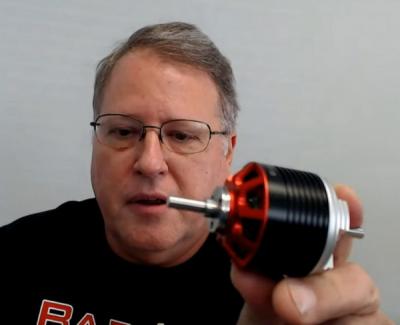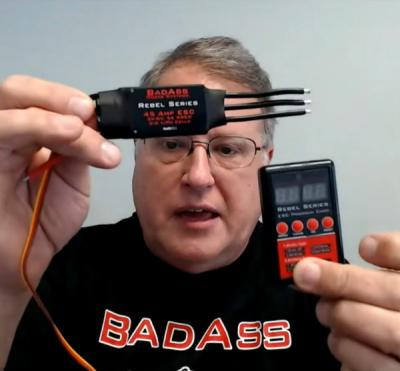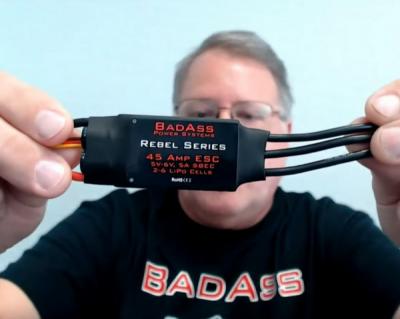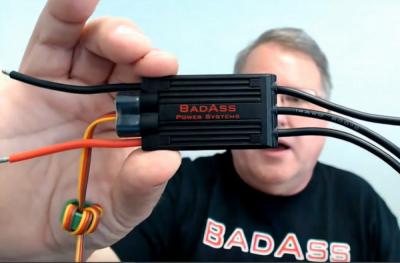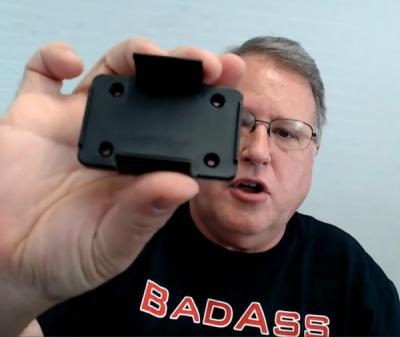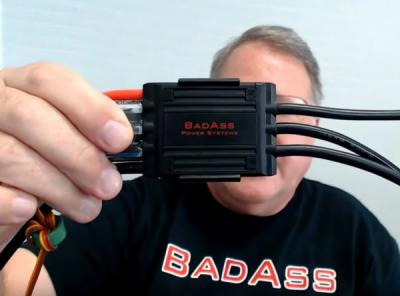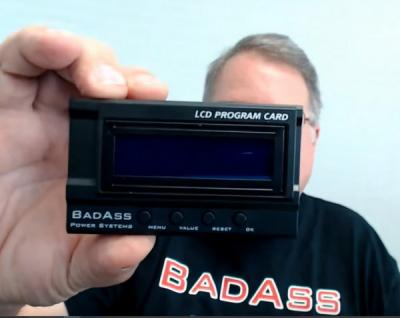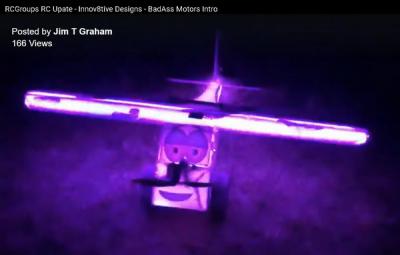 The full video interview with Lucien Miller (Illo 1.), founder and COO of Innov8tve Designs, can be viewed on YouTube, here.   You can also find it by visiting RCGroups.com. Be sure and check out the full interview!  Note that a detailed report by Jim T. on BADASS products can be perused at RC Groups, as well (Illo 2). 

Lucien Miller (Illo 3.) notes that he entered the RC hobby "way back in 1975." He launched Innov8tive Designs in mid-2006, and initially was the U.S. distributor of Scorpion products (electric motors and accessories).  He has been in the electric motor business, serving hobby, business, oceanographic, aviation, municipal, law enforcement and military markets ever since.
Lucien debuted the BADASS product line on the Innov8tive Designs website in September, 2019.  It occurred to Lucien BADASS would be a cool name. "It's not in swearword filters that we are aware of, and otherwise was not a problem in the opinion of a couple of hobby magazine editors I called."  Lucien reports that people who tested the prototype motors, which were not branded at the time, candidly volunteered that the motors were "badass"!

PERFORMANCE CHARTS

A key aspect of Innov8tive Design's motor offerings is the R&D motor testing data that the company publishes for all its motors. See the Spec Chart (Illo 4.).  Note that if you click on the "CLICK HERE for the Performance Data Chart" link, you'll get a Performance Test Data chart (Illo 5.).

Every motor is tested on 3 or 4 voltages with 20 to 30 different props on each voltage. These charts show real, live performance data from the dynamometer in the Innov8tive Designs motor lab. Pick a prop size, and the chart shows the static performance data for any of these props at any of the noted voltages.

Suppose you have a design and are limited to an 8-inch prop, and have a 4S pack on hand; you can scroll down and see the performance a given motor has on 4 cells with, e.g., an 8x4 or an 8x6 prop. You can see how many amps it's going to pull, what RPM it's going to turn, the theoretical pitch speed of this combination, and how many ounces of thrust it makes.

Innov8tive Designs is the only company in the industry that offers this. "A lot of companies may offer data on 2 or 3 props, but Innov8tive Designs will spend one to two days with each motor, running the tests with all the different props." The results are color coded (Illo 6.).  The one that is coded Blue in the illustration is too small for the motor and not making enough power to make it worthwhile.

"If it's Green, it's somewhere between 50 and 80% power in the motor, and the Yellow range is anywhere between 80 and up to 100%.  You can use it but do so with caution—make sure you have good ventilation and cooling. If you see one that's highlighted in Red, it pulls more than the maximum rated current for the motor, and so we recommend not using that prop."
One can see at a glance the performance of any of Innov8tive Design's motors. Also, if you click on a motor, about 10 difference reference photos will appear—different views plus CAD drawings that show different views.  Scroll to the right to see the external dimensions, those of the prop adapter, prop mounts and more.

SLOTTED HOLES

Note a special design feature: on the cross-mounts that mount to the back of the motor there are slotted holes to give more spacing flexibility to be able to fit them to existing aircraft.  Innov8tive Designs offers long and extra-long prop adapters for prop mounting applications where spacers, prop hubs and spinners may require it.

A video linked to on YouTube shows a variety of shots including motor details and FPV shots, both from the ground and the aircraft. Videos were taken in Oregon and in Nevada.  More videos will be coming out.

BADASS Promo Video
BADASS Powered Drak First Flight 
BADASS Motor for RiteWing Drak 
BADASS prop adapters in the included hardware kit (Illo 7.) allow for the use of an M3 (metric hole) screw, so if you are using an aluminum spinner with one retention screw in its tip, the prop adapters (Illo 8.)  will allow for the use of an M3 screw on the 28 and 35mm BADASS motors. Another included option is the regular hex nut but also the nyloc style nut, so both types are included in the hardware. Be sure and mount with blue Loctite (not red).

If you have an application with the rotating can part of the motor facing toward the nose of the plane and you want to use a collet-style prop adapter on the front of the motor (where the standard prop shaft barely protrudes), BADASS offers a Smooth Shaft Prop adapter that replicates the back end of the motor and which can be bolted onto the front of the motor (Illo 9.)  You can use the smooth front shaft adapter shown, which is available for all of the motors, for collet-style prop adapters, and for folding props with aluminum hub yoke assemblies (that hold to the shaft with a set screw).

BADASS will be an exclusive only available from Innov8tive Deigns, and their West Coast development partner, RC Dude Hobbies (RCDH).  Randy Moody from RCDH has worked with Lucien for the last 2 or 3 years on this project.
BADASS Power is strictly an informational website where people can look at our products.  See Badasspower.com. 
If you click on where to buy, it takes you to a splash page pointing to Innov8tive Designs or RCDH.

PACKAGING

BADASS offers attractive packaging with a form-fit die cut foam insert that is the exact shape of the motor. The 35-20 motor box interior is shown (Illo 10.).

BADASS includes its own line of speed controllers (ESCs). These are made by ZTW, to BADASS exacting standards (Illo 11.). There have been some minor modifications for BADASS's specific use, and there are two series of ESCs. There is the REBEL Series (Illo 12.), the sport model version, for from 12 to 85 amp. These are heat shrink covered, and come in six different models.  The 12 amp has a linear BEC but the 25amp and larger all have switching-type BECs.

The 25amp ESC has a 3-amp BEC, and once you get up to the 35amp ESC and larger, they have 5-amp switching BECs. In the case of the 45amp ESC and larger, you can select the output to either 5 or 6V.  They have a little LED programmer; you plug your ESC into the top and it's self-powered off the BEC.

The Renegade Series is a higher-end product with a wrap-around extruded aluminum heatsink case so that it dissipates the heat of the FETs and the BEC circuit (Illo 13.).  The 45-amp model is shown. It has a 5amp BEC that is adjustable to 5 or 6 volts output.  BADASS also has 65, 85, 125 and 155amp ESCs.  These have 8-amp BECs, and they are adjustable to 5, 6, 7.4 or 8.4 volts. The 125 and 155 amp models comes with a nice molded mounting clip (Illo 14.) that you can attach to your aircraft and the ESC snaps right into it (Illo 15.). The Renegade Series includes a nice programming card that you plug right into it (Illo 16.). Pushbuttons enable scrolling through the menus, where you can set all the features.

All of these ESCs can be programmed with stick commands, too.  But note it can be a little tedious stepping down through twelve menu layers.  The LED programmer for the Rebel Series is $9.99, and the programmer for the Renegade Series is only $19.99.

Innov8tive Designs will be offering high-voltage (HV) BADASS options in the future.  To date, they have released the 28mm and 35mm motors, and in that family, 6S is the top end recommended pack.  There are a couple in the lower Kv, 3520 and 3530 motors that you could run on 8S packs, but for all intents and purposes, the motors so far released are for 6S and below, which all of the current BADASS ESCs address.

Jim T. asked Lucien for advice on his 1990's Norman from Lance Planes (Illo 17.), which is running a PJS-100 from the 1990s, with an old Blue JETI ESC. Jim T. speculates that a 900Kv motor might be a match.  Lucien noted that the BADASS 2814 size is an 870 Kv, which is pretty close.

It is important to remember tht because BADASS motors use such strong magnets, and with such high-efficiency stators and high efficiency steel in the rotor cans, these motors do not "bog down" as much as most other motors do.  Because of that, a BADASS motor with a Kv value of about 10% less than a 3rd brand motor, under load, will spin a prop at about the same RPM. Most brushless motors under load drop down to about 70% of the no load speed, when you have them loaded to about 80% power.  BADASS motors, in contrast, only drop down to somewhere between 80 and 85% of the no-load speed under typical loads.

So, if you have an application with a 3rd-party 2820 1,000 Kv motor, and you replace it with a BADASS 2820 1,000 Kv motor, it will turn your prop at about 10% to 15% faster RPM.  This is why the prop performance charts are a key tool.
For the Norman, our 2814 870 Kv motor with an 11x5.5 prop will give you 450-460 Watts of power with a little over 4.5 pounds of static thrust on a 4-cell pack, pulling about 32amps at full throttle. Accordingly, a 4S 2200 pack would be fine, and would provide unlimited vertical. But throttling it back to about 1/3 throttle as when typically flying in a night-fly, the current would drop down to 7or 8 amps and one could expect 20-minute flights.

BADASS batteries are in the works. Innov8tive Designs will be teaming up with a major battery manufacturer in due course to offer complete BADASS power systems.

Moving forward, BADASS will be offering motor sizes in the 23mm range, including 2305, 2310, 2315 and 2320 sizes.  These are great power plants for smaller aircraft.  Then, 4520 and 4530, with lower Kv versions for 10 or 12 cells, and then matching ESCs.

Innov8tive Designs has been known since day one as a power system company. "We launched the Scorpion brand and made it a household name. We sold that brand, which left a hole, which is one of the reasons for launching BADASS. And we've offered Cobra motors for 9 years since 2010, with the same data and charts. We are known for the best motors and customer service, and we can advise on the best system for a particular plane.  This sets us apart from a lot of other companies. We care about our customers getting the performance they are seeking.

"We use super-oversized bearings, which results in a very robust product that can operate year in and year out in a brushless electric power system.  You can find our products and buy the best match for your needs at both Innov8tiveDesigns.com and RCDude.com."
CONCLUSION

It is a new era in motor technology, pioneered by electrical engineer and inventor Lucien Miller of Innov8tve Designs.  Our thanks to Lucien Miller and Jim T. Graham for the opportunity to post these highlights from Jim T's recent interview with Lucien on BADASS products recently published on RCGroups.com. 
Photos by Jim T. Graham of RCGroups.com; Illustrations by Lucien Miller of Innov8tive Designs. Our thanks to their assistance in the production of this report.