Chinese Firm Develops Swarming Drones to 'Besiege and Expel' Vessels
Submitted by tatwood on Thu, 12/02/2021 - 10:42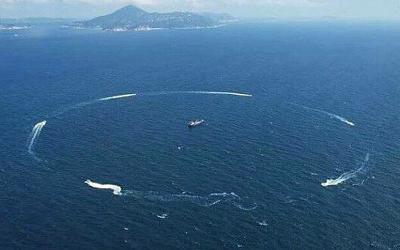 Chinese firm Yunzhou Tech has deployed its unmanned surface vessels for many purposes over the past ten years – water sampling, public light shows, oceanographic research, security patrols – but it is preparing to take its technology to a new level for national security missions. Yunzhou is working on swarming technology that would allow multiple drones to engage in "cooperative confrontation" with undesired surface vessels in order to "besiege and expel" them, according to the Chinese Communist Party outlet Global Times. The drones are intended to share sensor data, track target vessels at high speed, conduct intercepts and "expel" intruding vessels. They are capable of autonomous decision-making as a group, according to Global Times via HSToday.us.

Our thanks to Thanks to CDR David Place (USN/Ret), davidplace47[at]gmail[dot]com, for his assistance with this report, which is a pre-release excerpt from the next edition of the UNMANNED SYSTEMS NEWS (USN). David and Robin Alexander, President ATC, alexander technical[at]gmail[dot]com, collaborate in producing the USN, which we recommend.

David Place distributes the USN, a free, comprehensive newsletter in PDF format every week or two, as well as serial news flashes. To be included in his distribution, simply send David a subscribe request to davidplace47[at]gmail[dot]com.