Classified RQ-180 UAV Likely Spotted Near Edwards AFB in California
Submitted by tatwood on Tue, 11/24/2020 - 23:53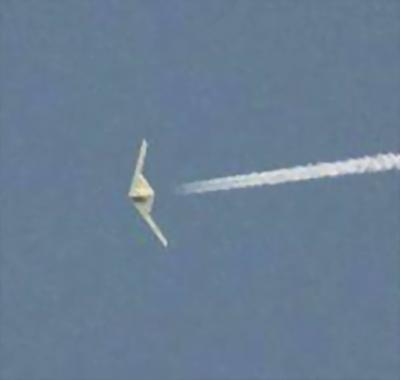 In a November 1 article by Steve Trimble and Guy Norris, it was noted that "The configuration appears to share many of the supposed features of the RQ-180, namely a large-span flying wing with a simple trailing edge and—judging by the contrail—embedded, closely paired twin turbofan engines.  …The unusual light color of the vehicle also is believed to be a link to the RQ-180. A local nickname around Edwards AFB for the RQ-180 is the 'Great White Bat'—or sometimes 'Shikaka'—a fictional sacred white bat from the 1995 movie Ace Venture 2."  For more information, please see Aviation Week's report.
Thanks to CDR David Place (USN/Ret), davidplace47[at]gmail[dot]com, and Robin E. Alexander, President ATC, alexander technical[at]gmail[dot]com, for their assistance with this report, the background for which appeared in their  # 20 - 23 - 21 NOVEMBER 2020 edition of the UNMANNED SYSTEMS NEWS (USN).
David distributes the Unmanned Systems News (USN), a free, comprehensive newsletter in PDF format every week or two, as well as serial news flashes, from which this NREF news update was sourced. To be included in his distribution, simply send David a subscribe request to davidplace47[at]gmail[dot]com.