Drone Journalism Lab Operations Manual
Submitted by tatwood on Sat, 09/10/2016 - 15:31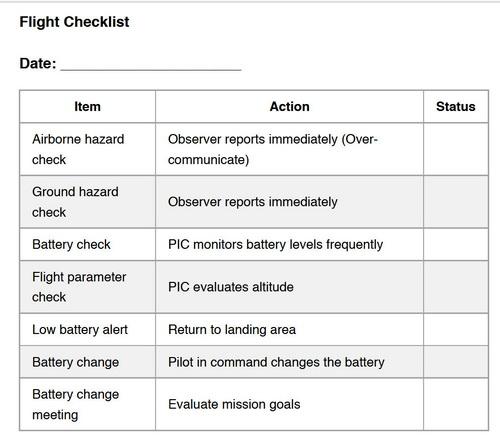 Matt Waite and Ben Kreimer of the University of Nebraska-Lincoln's Drone Journalism Lab have offered a brief but comprehensive guide to safe drone operations involving professional journalism. The guide is generously funded by the Knight Foundation, and is available to any under a Creative Commons license. Three roles are defined: Pilot in Command (PIC), Observer, and Journalist. It is noted that just one or two individuals can fulfill all three roles, but that the PIC, who holds the FAA-issued Part 107 certificate, is the final authority on whether it is safe and feasible to fly.  The Observer, the sole person who can speak to the PIC during operations, is responsible to alert the PIC if aircraft, vehicles or peope come into the area during operations. The journalist is responsible for defining the goals of the flight and verifying the outcome after the drone lands.
The guide discusses questions of ethics and points to the Society of Professioal Journalists  SPJ Code of ethics.  It states that the manual "is a mixture of hard-earned experience in the field, requirements under the FAA's Part 107 regulations, best practices for drone use, and methods that manned aircraft pilots use to fly airplanes.  It stresses that news managers must understand that the PIC is the final authority, as this person is the license holder who will incur liability if something goes wrong.
The manual is an "open document" so that users can contribute their insights and experiences back to it. It is hosted on Github, a social code sharing website, and the authors openly invite comments and recommendations. PDF copies of the manual are available for free download  online.  We thank David Place, CDR, USN/Ret., and Robin Alexander, President, ATC, for sourcing this story, recently published in David's Unmanned Systems News (USN) listserve distribution, which we highly recommend and that you can subscribe to by emailing David at davidplace47@gmail.com.