Dronedek's 'Mailbox of the Future' to Start Accepting Drone Deliveries of US Mail in Lawrence, IN
Submitted by tatwood on Tue, 08/02/2022 - 20:28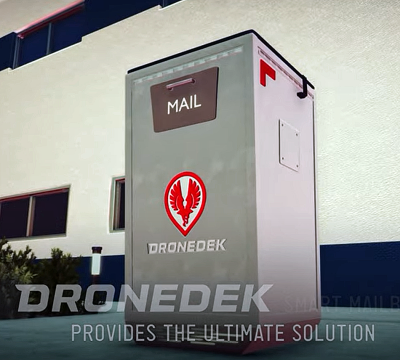 On Monday, August 8, 2022, in Lawrence, Ind., (a suburb of Indianapolis) history will be made when traditional mail is delivered to the world's first smart mailbox. That delivery will be followed by a McDonald's Big Mac and French fries drop to that same mailbox via drone to Schneider Geospatial.

The postal delivery is part of a pilot project involving other Dronedek mailboxes, which are powered by Oracle, throughout the city.
"We're showcasing how this mailbox is ready right now for traditional delivery and what it can do in the near future when federal regulations are relaxed to enable autonomous delivery," says Dan O'Toole, founder and CEO of Dronedek. "We're also marking the start of secure autonomous package delivery. It's historic."

O'Toole says his company is in talks with major national delivery services, including UberEats, DoorDash and other major retail delivery companies.  Watch a video here and learn more at www.Dronedek.com.