General Atomics Test Flying Large Armed Mystery Drone
Submitted by tatwood on Tue, 11/23/2021 - 16:20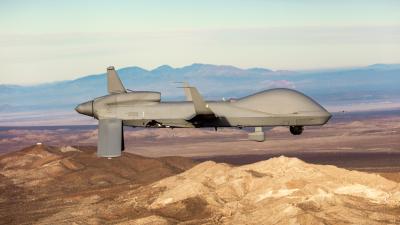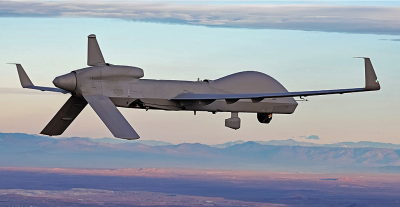 Breakingdefense.com reported that "General Atomics is secretly flying a new, heavily armed drone. …The name and designation of the new drone have not been disclosed, but General Atomics intends to roll out photos and specifications of the system by the end of the year, sources said. …The new yet-unnamed drone can carry up to 16 Hellfire missiles at a time — double the load of an MQ-1C Gray Eagle. …General Atomics has not begun discussions with the US military or potential international customers about the drone yet. The system was designed with Army's Future Command and Special Operations Command in mind — particularly SOCOM's Armed Overwatch program — and could also be a natural fit for the Marine Corps or any other expeditionary force." Information was also available on the General Atomics website. Photos courtesy of Breakingdefense.com and General Atomics.

Thanks to CDR David Place (USN/Ret), davidplace47[at]gmail[dot]com, and Robin E. Alexander, President ATC, alexander technical[at]gmail[dot]com, for their assistance with this report, the background for which appeared in their  # 21 - 28 - 20 NOVEMBER 2021 edition of the UNMANNED SYSTEMS NEWS (USN).
David distributes the USN, a free, comprehensive newsletter in PDF format every week or two, as well as serial news flashes, from which this NREF news update was sourced. To be included in his distribution, simply send David a subscribe request to davidplace47[at]gmail[dot]com.