Iran Again Displays its Miniature Tank Robots, Now with Claimed AI
Submitted by tatwood on Thu, 02/09/2023 - 13:50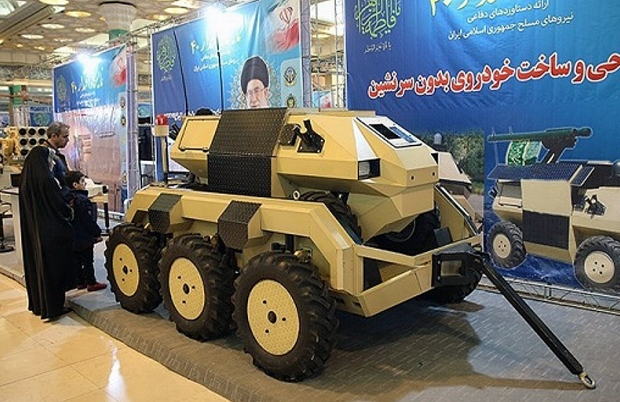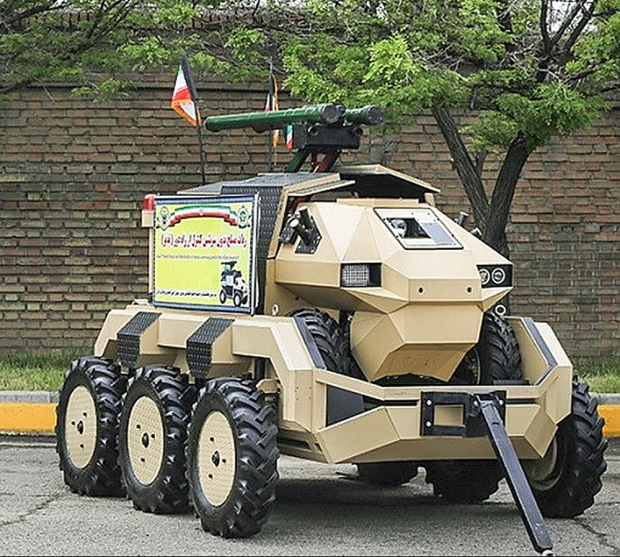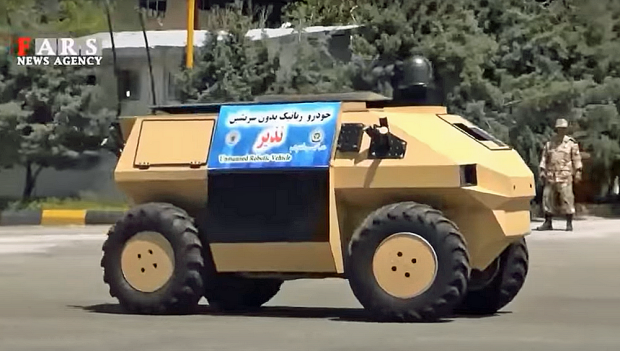 Iran recently showcased remote-controlled, tank-like 4- and 6-wheeled machines fitted with an assortment of small arms. Fars News Agency, associated with the Islamic Revolutionary Guard Corps (IRGC), reported that the industry of the "Islamic Republic" is working on producing new military equipment, which has been further spurred by sanctions. As has been widely reported, Tehran has been supplying drones to Russia, a new leap for its military industrial complex. This focus on new unmanned military technology comes as the regime is celebrating the 44th anniversary of the Islamic Revolution. Iran claims to have added AI to the machines. Some models have AK-47s attached to them and reportedly may include limited artificial-intelligence (AI) applications. The claimed AI would automatically recognize targets so that users can click on a screen and order the machine to destroy or investigate the target.

The Nazir is a large vehicle, the size of a small elephant, with six wheels. It has been around for almost a decade and is the first generation of Iranian unmanned vehicles. A four-wheeled version of it also exists. It also has a "flexible chassis" and can drive in various types of terrain. It has an electric engine and can drive up to 2 km., the report said. These UGVs are useful for exploring mined areas, bringing equipment to troops or evacuating the wounded. They are also useful for patrolling borders, where soldiers might face sniper fire. Iran has claimed it has day-and-night optics to conduct surveillance and can be mounted with a 7.62-mm. weapons system. It weighs 600 kg. and can also carry cargo and food for soldiers.

The Haider, by contrast, is a much smaller vehicle, dating from 2018. It is about the length of an AK-47, less than a meter, with six wheels. It is supposed to be used in the capacity as a "sniper, suicide bomber, mine thrower or reconnaissance," according to the report. It can also network with other vehicles. "It is possible to coordinate several Haider robots in the form of a robotic network to carry out multilateral combat operations," the report said. For details, see The Jerusalem Post. Watch a related Iranian video here.
Our thanks to Thanks to CDR David Place (USN/Ret), davidplace47[at]gmail[dot]com, for his assistance with this report, which is a pre-release excerpt from the next edition of the UNMANNED SYSTEMS NEWS (USN).

David Place distributes the USN, a free, comprehensive newsletter in PDF format every week or two, as well as serial news flashes. To be included in his distribution, simply send David a subscribe request to davidplace47[at]gmail[dot]com.