Lightweight Lasers Enhancing UAV Target Designation
Submitted by tatwood on Sun, 09/11/2022 - 16:51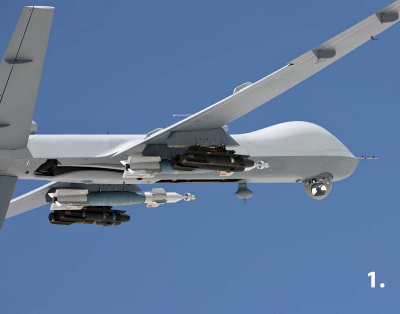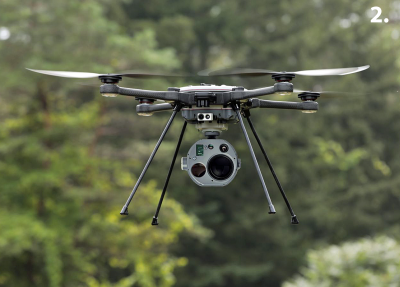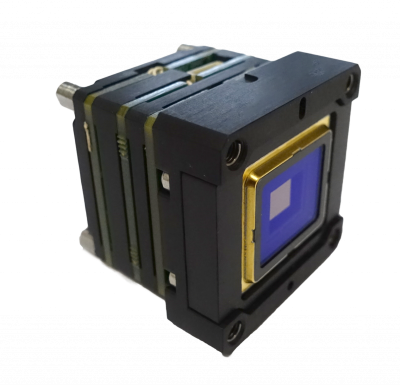 With laser-guided weapons becoming more common across all domains, a new use case for UAS is emerging, designating targets for their own and external weapon systems at low risk and cost. As reported on Shephardmedia.com, "The area is a growing focus for Teledyne FLIR Defense, which recently announced a new designator aimed specifically at sUAS. The StormCaster-DX was developed for the company's R80D SkyRaider platform and is 'designed to manage target areas using a laser spot tracker while affecting the terminal guidance of laser-guided munitions', the company said at the time of the system's launch in May 2022. 'Until now, this capability was only possible with larger UAS platforms or ground-based systems.' Teledyne FLIR said that potential applications include both crewed and uncrewed air strikes, precision-guided mortars, air-launched effects and naval gunfire."
Photos:
1. Raytheon's multi-sensor MTS payload seen in flight on an MQ-9 Reaper. (Photo: Raytheon Intelligence & Space).
2. Teledyne FLIR Defense's StormCaster-DX is aimed specifically at small UAS. (Photo: Teledyne FLIR Defense)
3. SCD's SWIFT-EI (Event Imaging) is a low SWaP and cost shortwave IR sensor specifically developed to meet the multi-see-spot requirement. (Photo: SCD)
4. The laser systems on MTS have been used as the basis of new technologies, such as the High-Energy Laser beam director. (Image: Raytheon Intelligence & Space) For details, please visit Shephardmedia.com.

Thanks to CDR David Place (USN/Ret), davidplace47[at]gmail[dot]com, and Robin E. Alexander, President ATC, alexander technical[at]gmail[dot]com, for their assistance with this report, the background for which appeared in their  # 22 - 13 - 2 SEPTEMBER 2022 edition of the UNMANNED SYSTEMS NEWS (USN).
David distributes the USN, a free, comprehensive newsletter in PDF format every week or two, as well as serial news flashes, from which this NREF news update was sourced. To be included in his distribution, simply send a subscribe request to davidplace47[at]gmail[dot]com.