Liquid Robotics and Maritime Robotics Partnering
Submitted by tatwood on Wed, 10/05/2016 - 09:37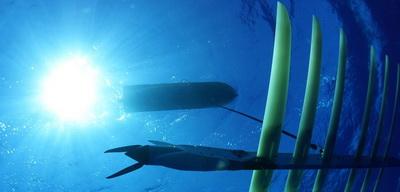 C41SRNET reported that Norway's Maritime Robotics is partnering with Liquid Robotics, the American manufacturer of the Wave Glider underwater drone, to sell products and integration services to Nordic countries. Relevant markets include maritime security, meteorology and oceanography, flight tracking, wind farming and more. Photo courtesy of Liquid Robotics. Thanks to CDR David Place (USN/Ret), via David's Unmanned PLACE, davidplace47@gmail.com, and Robin E. Alexander, President ATC, alexandertechnical@gmail.com, for their assistance with this report.
The report noted:
"Maritime Robotics is now an authorized partner to sell Liquid Robotics' Wave Gliders and associated mission and integration services to customers throughout the Nordic countries of Norway, Sweden, Denmark, Finland, and Iceland," a Liquid Robotics announcement said. 

"The Maritime Robotics partnership brings valuable expertise in creating and delivering high value, sustainable maritime solutions for today's applications of maritime security, fish tracking & monitoring and meteorology and oceanography," Liquid Robotics said. "Additionally, this partnership will address the emerging commercial applications of wind farming, aquaculture and commercial flight tracking."