Marines eyeing C-UAS upgrade for MADIS Joint Light Tactical Vehicle
Submitted by tatwood on Sat, 01/29/2022 - 09:04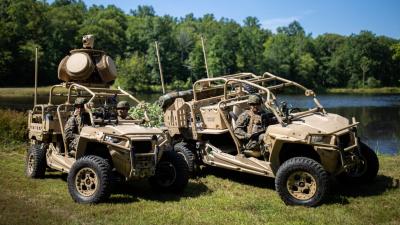 The Marine Corps is collecting information from industry this month on potential counter UAS interceptors it can add to the next block of its ground-based air defense vehicle. The Pentagon characterizes the sizes of unmanned aircraft into "groups." Group one represents small handheld drones deployable by just one or two Marines on the ground, while group five aircraft are similar in size to full-scale helicopters. The interceptors the service is soliciting would be equipped on the Marine Air Defense Integrated System, also called MADIS. MADIS is essentially a Joint Light Tactical Vehicle with an array of sensors, communications equipment and light weaponry that Low Altitude Air Defense Marines, all called LAADs, can use to fight off incoming hostile drones. Read details at Breakingdefense.com.

Thanks to CDR David Place (USN/Ret), davidplace47[at]gmail[dot]com, and Robin E. Alexander, President ATC, alexander technical[at]gmail[dot]com, for their assistance with this report, the background for which appeared in their  # 22 - 1 - 22 JANUARY 2022 edition of the UNMANNED SYSTEMS NEWS (USN).
David distributes the USN, a free, comprehensive newsletter in PDF format every week or two, as well as serial news flashes, from which this NREF news update was sourced. To be included in his distribution, simply send a subscribe request to davidplace47[at]gmail[dot]com.