MDPI Open-Access Drones Journal is a Must See!
Submitted by tatwood on Thu, 07/01/2021 - 21:03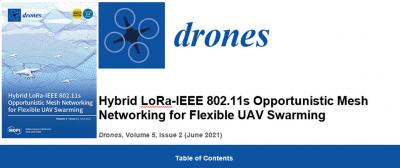 The Multidisciplinary Digital Publishing Institute (MDPI) with global headquarters in Basel, Switzerland publishes international, open access, peer-reviewed, professional, scientific journals on numerous disciplines. One of those scientific journals is entitled Drones. In late June, MDPI publicly released a special issue of Drones having an assembled collection of technical papers, "Drones, Volume 5, Issue 2 (June 2021)."
If one sees a technical paper whose title may be of interest, then to begin to read that article simply click upon the title. A separate webpage will then load specific to that technical paper title. Scroll down the webpage and one will see two buttons. One is labeled "View Full-Text." The other button is labeled "Download PDF." Clicking upon either of these buttons will bring that specific technical paper forward on a separate webpage for reading.  When clicking upon the "Download PDF" button, the technical paper can then be saved as a file for one's future use. Readers are encouraged to submit and publicly share technical papers authored or co-authored!
Special thanks to Freddie McKee for providing this information, kindly forwarded to NREF by David Place. David distributes the Unmanned Systems News (USN), a free, comprehensive newsletter in PDF format every week or two, as well as serial news flashes. To be included in David's distribution, simply send David a subscribe request to davidplace47[at]gmail[dot]com.