NAVY Sub-Launched UAVs Guide Long-Distance Torpedoes
Submitted by tatwood on Fri, 12/18/2020 - 14:09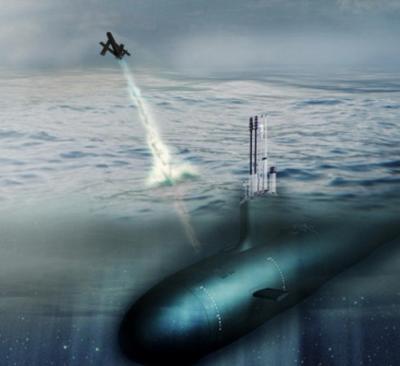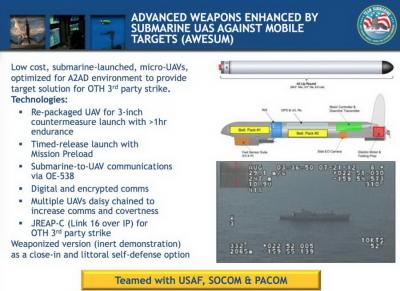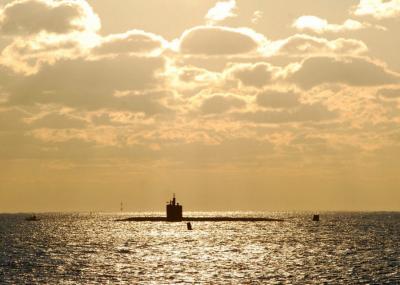 Sea Power Magazine reported: "Only eight months after the project was started, the Navy conducted an at-sea demonstration of the SLUAS from the Los Angeles-class SSN USS Annapolis, launching them 'from periscope depth, control them out to tactically significant ranges — well beyond the line of sight,' Goggins said. By doing so 'she was able to target and conduct a rapid simulated torpedo attack against a participating surface ship, in case the USS Charleston, pretty much at near-maximum effective range of that torpedo, by flying that UAV to obtain a fire-point solution after gaining that initial sonar gain.'"  Illustrations and photo of USS Annapolis (SSN 760) courtesy of Forbes.com, Sea Power Magazine and U.S. Navy Petty Officer Virginia Schaefer. For details, please see Forbes.com and Sea Power Magazine.
 
Thanks to CDR David Place (USN/Ret), davidplace47[at]gmail[dot]com, and Robin E. Alexander, President ATC, alexander technical[at]gmail[dot]com, for their assistance with this report, the background for which appeared in their  # 20 - 25 - 12 DECEMBER 2020 edition of the UNMANNED SYSTEMS NEWS (USN).
David distributes the Unmanned Systems News (USN), a free, comprehensive newsletter in PDF format every week or two, as well as serial news flashes, from which this NREF news update was sourced. To be included in his distribution, simply send David a subscribe request to davidplace47[at]gmail[dot]com.