New Guinness World Record for Heaviest Load Carried by a Drone
Submitted by tatwood on Tue, 12/25/2018 - 12:45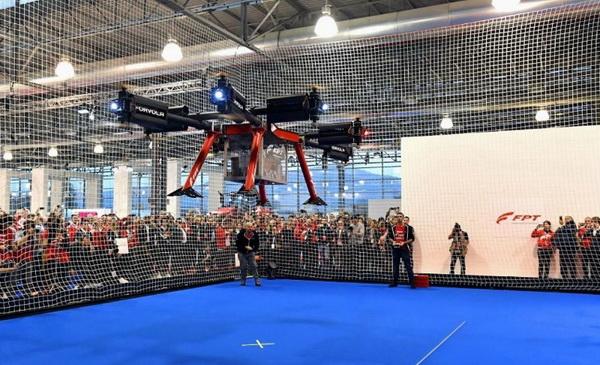 As witnessed by a gathering full of drone enthusiasts and professionals, and reported December 19 at https://dronebelow.com,  the Forvola Mega Drone took flight and remained airborne at a little over 1 meter for one minute and three seconds carrying a weight of 101kgs.
"Mission Accomplished", declared the official from the Guinness World Record to a resounding applause and satisfaction from members of both the tech teams. The previous record belonged to the University of Oslo, Norway, whose drone lifted about 61kg. for 37 seconds in 2015. Find details of the latest record flight at this link. For details on the Forvola Mega Drone specifications, which has a staggering top-end payload capacity of 200 Kg, please visit http://www.forvola.com/
Thanks to CDR David Place (USN/Ret), davidplace47[at]gmail[dot]com, and Robin E. Alexander, President ATC, alexander technical[at]gmail[dot]com, for their assistance with this report.
Note to site visitors: David offers a free, comprehensive news report on unmanned systems and robotics in PDF format that is distributed every week or two, as well as serial news flashes, from which this news update was sourced. To be included in his viewership, simply send David a subscribe request, and please let him know you sourced the opportunity here!