Small Unmanned Systems Business Exposition 2018
Submitted by tatwood on Thu, 01/25/2018 - 11:39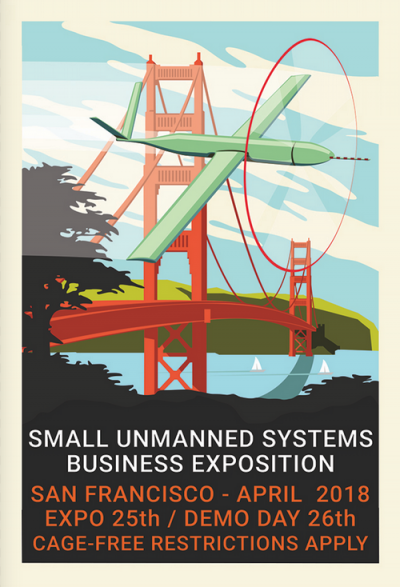 This year's line up will continue the tradition of top-tier "learn how to earn" content. Expect a variety of experts offering valuable firsthand insights that will have many saying 'I heard that first at the SUSB Expo!' That is what makes this program a "can't miss" event and probably the reason why it is the last drone symposium standing in San Francisco.
We are changing venues this year to the historic Marines' Memorial Club next to Union Square on Wednesday, April 25th. On Thursday the 26th, we'll be heading out to Treasure Island for presentations and flying demonstrations right in the City of San Francisco.  This is an exceptional opportunity for end-users and investors to see products and services demonstrated "cage-free" and in real-world conditions. If a picture is worth a thousand words, a demonstration speaks volumes. Click here for details:  www.susbexpo.com
Check back often, we will be updating the website, agenda and program information as we get closer to the event.  We look forward to seeing you at the 2018 SUSB Expo as sUAS celebrates ten years of service to the drone community.

We still have a few wildcard slots to present, sponsor and demonstrate at the 2018 Small Unmanned Systems Business Exposition. We are also producing a SUSB Expo compendium Expo-SE, a downloadable journal of case studies and articles to share with the community.  So, if you have something you believe the world must see, email Patrick@suasnews.com.