STEM Education Opportunities and Resources!
Submitted by tatwood on Sun, 06/05/2022 - 12:54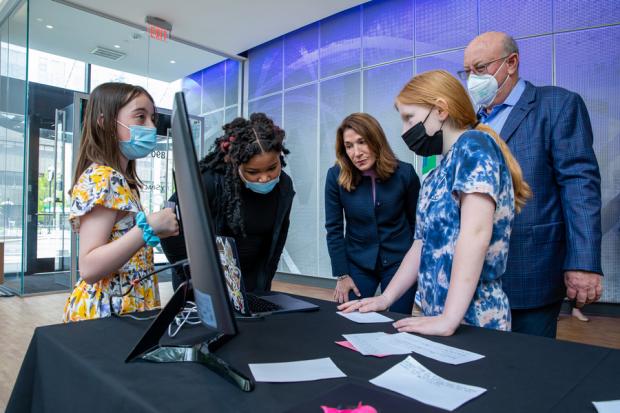 STEM education resources available online are increasing as the world becomes ever-more technology driven. Visit these three leading STEM education websites for a current perspective on opportunities and challenges. Today, wages for jobs that are dependent on an education in science, technology, engineering and math pay at a rate that is more than twice the median annual wage for all other occupations. The Bureau of Labor and Statistics projects that the market for computer science occupations will grow 13 percent between 2020 and 2030.  In the photo, three students from Mary Lyon School in Boston share their project with Lieutenant Governor Karyn Polito and Vertex Executive Chairman Jeffrey Leiden. Photo courtesy of MIT RAISE.  Learn more at these websites!
EdSurge.com
EdSurge reports on how technological advancements, scientific research, demographic shifts, business interests and other socioeconomic forces impact teaching, learning and the work world that students will enter.

MIT News
Visit the Massachusetts Institute of Technology's STEM education posts for diverse articles on the intersection of technology and successful STEM education initiatives.

ScienceDaily.com STEM Education News
Read the latest research relevant to STEM education in science, technology, engineering and mathematics.