TeamViewer Digitalizes Warehouse Operations at GlobalFoundries with Augmented Reality Picking
Submitted by tatwood on Sun, 12/25/2022 - 20:42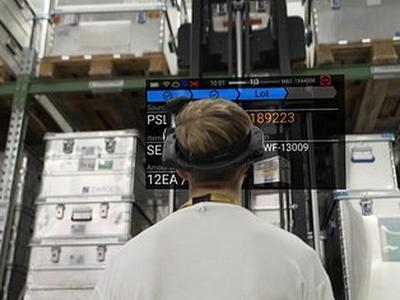 TeamViewer, a provider of remote connectivity and workplace digitalization solutions, has announced that the global semiconductor manufacturer GlobalFoundries (GF) has deployed TeamViewer's Augmented Reality (AR) platform Frontline for its warehouse operations in Dresden, Germany. This will result in up to 25 percent faster execution of warehouse processes, better employee ergonomics, a picking error rate close to zero and a reduction in waste of around 100,000 paper sheets per year. At the GF warehouse, the software guides the warehouse workers through the picking process with clear step-by-step instructions that are displayed on smart glasses directly in their field of view. Together with the integrated voice control, it provides hands-free information to the workers, replacing the former paper-based process.

"At GF, we always strive to improve our operational efficiencies to better fulfill our customers' needs. When looking for a solution to digitally transform and improve our warehouse operations, we found that an Augmented Reality based solution could really make a difference for us. Now, with the roll-out of TeamViewer Frontline, we were able to take efficiency, accuracy and sustainability of warehouse logistics to a whole new level," said Kevin Hidalgo, GF senior director of logistics.

The end-to-end implementation of TeamViewer Frontline in the warehouse of GF's Dresden facility was completed in 10 weeks. TeamViewer is free of charge for private use, it has 620,000 subscribers. To learn more, visit the TeamViewer website.