Troops Testing AFRL's THOR Drone Killer This Fall
Submitted by tatwood on Mon, 08/17/2020 - 12:31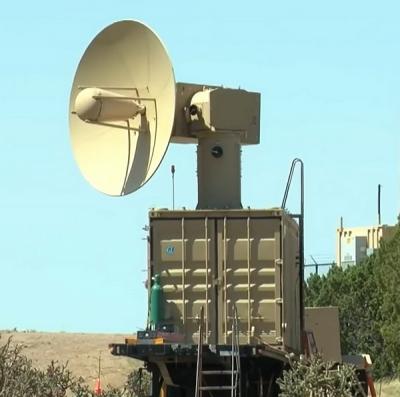 "The Air Force has done a lot of great work," said Craig Robin a former AFRL scientist himself who's now the lead expert on directed energy at the Army's Rapid Capabilities & Critical Technology Office (RCCTO). "Right now the Army's not investing any money in high powered microwave systems," he told Breaking Defense. "We're working to coordinate … not only with the Air Force but with the newly established joint Counter-UAS office to ensure that we're building a common high-powered microwave system."
The C-sUAS office, which launched in January, is charged by Defense Secretary Mark Esper to winnow down the 40-odd counter-drone systems under development across DoD — ranging from net guns to lasers to HPM systems — to find the best matches to various warfighter needs.
According to BreakingDefense.com, Kelly Hammett, head of directed energy at Air Force Research Laboratory (AFRL), said THOR's key differentiator from comparable systems is that "it was designed specifically for the needs of military operators in the field. For example, he said, it's robust enough to withstand wide temperature swings and operate rain or shine. And it's easy to set up."
"Housed in a 20-foot shipping container that's transportable on a C-130, THOR can rapidly 'refire' extremely high-power pulses of microwave energy while slewing across sectors of the sky to rapidly take down swarms of Group 1 and 2 drones — those weighing less than 55 pounds, operating below 3,500 feet, and at speeds below 250 knots."
Photos courtesy of BreakingDefense.com and The Verge.
Thanks to CDR David Place (USN/Ret), davidplace47[at]gmail[dot]com, and Robin E. Alexander, President ATC, alexander technical[at]gmail[dot]com, for their assistance with this report, the background for which appeared in their USN - # 20 - 16 - 11 AUGUST 2020 edition of the UNMANNED SYSTEMS NEWS (USN).
David distributes the Unmanned Systems News (USN), a free, comprehensive newsletter in PDF format every week or two, as well as serial news flashes, from which this NREF news update was sourced. To be included in his distribution, simply send David a subscribe request to davidplace47[at]gmail[dot]com.