Unmanned Ground Vehicles Update—Latest UGVs
Submitted by tatwood on Sun, 01/05/2020 - 20:10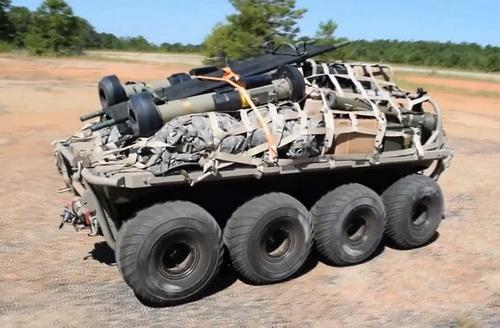 In the rapidly advancing era of automated cars, it's no surprise that there has been a worldwide explosion in semi-autonomous and autonomous Unmanned Ground Vehicles (UGVs).   These "robot mules" span military, commercial and research markets.  Notably, in late 2019, the U.S. Army selected General Dynamics to produce UGVs under its Small Multipurpose Equipment Transports (SMET) program.  Defense Blog reported that an Army contract worth $162.4 million "for up to 624 robotic mules was awarded in October to GDLS, a business unit of General Dynamics.  Delivery to Soldiers begins in the second quarter of Fiscal Year 2021."  See SMET details, below, and a photo gallery of a modest but representative sample of commercial, research and military UGVs illustrating the latest generation of robotic mules. This update starts with the pioneering German UGVs of WW2, and the circa-2006 CMU Crusher.  Numbered captions and links are in descending image order.
1. Defense Blog noted that "SMET's basic operational capabilities will include unmanned and optionally manned system, [and]… will Carry 1,000 lbs., reducing Soldier weight burden by 100-plus pounds each when in support of a rifle squad."  Credit: Gen Dyn SMET Smart Mulitpurpose Equp Transport, USArmy, photo by Sgt Thomas Scaggs.  https://defence-blog.com/army/u-s-army-selects-general-dynamics-to-produ...
2. German WW2 Goliath tracked mine.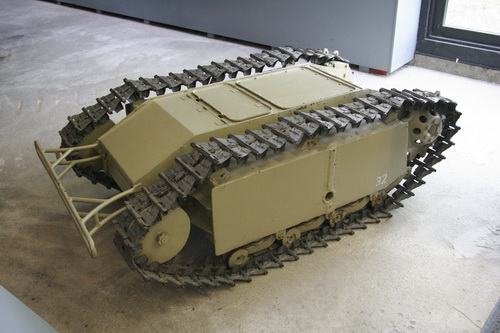 The diminutive Goliath was the precursor to all modern UGVs and pioneered remote control UGV technologies. It came in both electric and petrol-powered models. It was remotely controlled via a 650-meter multi-strand cable that unwound from a spool in a rear compartment. It carried 60 to 100 kilograms of explosives and self-destructed attacking buildings, tanks and other targets. Over 7,500 were produced.  Image credit: Rodw - Own work, CC BY-SA 4.0, https://commons.wikimedia.org/w/index.php?curid=36179124
3. Another Goliath model.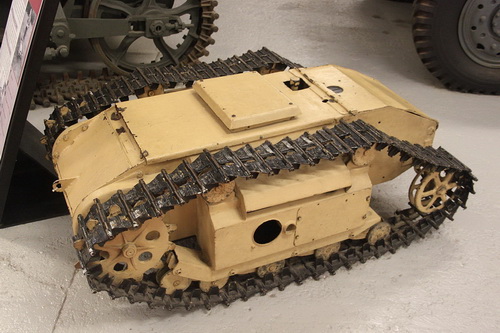 Credit: Sonderkraftfahrzeug_303_Goliath_in_the_Tank_Museum_2. https://en.wikipedia.org/wiki/Goliath_tracked_mine
4. CMU Crusher.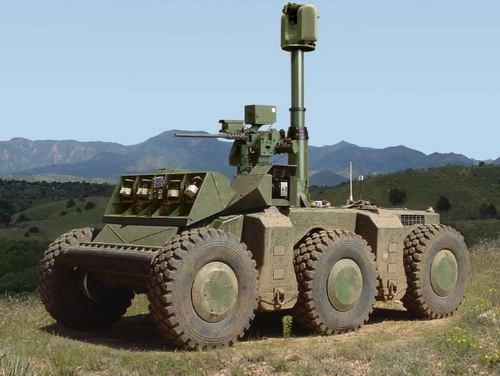 Crusher was a 13,200-pound autonomous off-road Unmanned Ground Combat Vehicle (UGCV) developed for DARPA in 2006 by Carnegie Mellon University's National Robotics Engineering Center. It was a research platform for fire support, supply, recon and medevac. Wikipedia notes that the robot "can travel over rough terrain, such as vertical walls more than 4 feet (1.2 m) high, wooded slopes, and rocky creek beds. It can turn 180 degrees in place, raise and lower its suspension by 30 inches …and lean to the side. The Crusher can carry 8,000 pounds (3,600 kg) of combined armor and cargo." Crusher could travel several miles on a battery charge and had a backup diesel engine for longer transits and for recharging.  https://en.wikipedia.org/wiki/Crusher_(robot)
5. U.S. Army Titan.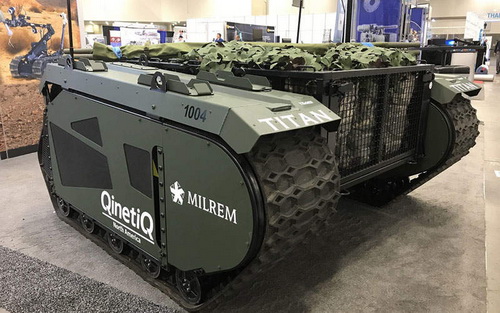 Titan is a modular UGV developed by Milrem and QinetiQ North America (QNA). Based on Milrem's Tracked Hybrid Modular Infantry System, it is intended to perform critical tasks in the combat zone, and can be operated in manned or unmanned modes. Titan includes two track modules connected by a payload frame. The open architecture of the Titan can be interfaced with "remote weapon station (RWS), interrogation arms, reconnaissance, surveillance, and target acquisition (RSTA) systems to support combat, chemical, biological, radiological and nuclear (CBRN) defence, RSTA and route clearance missions."  79in-long, 83in-wide and 40in-high, it offers a payload bay area of 72in x 48in and has a curb weight of 2,000lb.  It can carry day/night cameras, infrared (IR) and thermal imaging systems. It is propelled by a pair of diesel-electric hybrid tracked drive modules powered by a 10kW JP8 generator plus absorbent glass mat (AGM) lead acid or lithium-ion batteries. It can run for over 20km in two hours on battery power, while the diesel-electric hybrid operation offers a range of 100km and endurance of 72 hours. See Army-technology.com for details.
https://www.army-technology.com/projects/titan-unmanned-ground-vehicle-ugv/
6. Titan, armed, with open payload bay ready for cargo.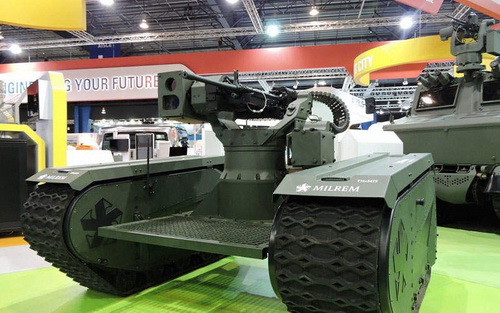 7. General Dynamics Multi-Utility Tactical Transport Tactical Transport (MUTT).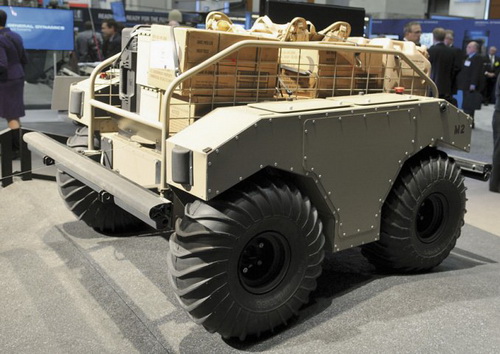 The MUTT is a small-unit force multiplier that offers increased persistence, protection and force projection. As an autonomous robotic follower, it lightens the load in combat operations. As a teleoperated unit, it provides increased projection of combat power and stand-off from threats. It can accommodate new payloads, new controllers and increased levels of autonomy, and provides MUM-T 1.0 capability (Manned-Unmanned Teaming).  https://www.gdls.com/products/tracked-combat/MUTT.html
8. Forager, c-Link Systems.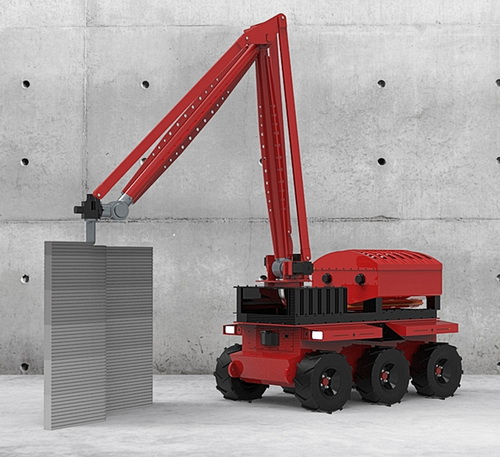 c-Link Systems, Inc., a UGV firm based in Maine and founded by CEO Bill Lovell in 1997, has many years of experience in the design and deployment of both wheeled and tracked ground robots.  c-Link's work has focused on two systems. The larger Forager UGV, a utility vehicle with a robot arm, is designed for search-and-rescue (S&R), farm and ranch landscaping, as well as exploratory work in hazardous environments such as underground mines and disaster zones. In past years, a Forager was entombed in a mining collapse in New Zealand doing work too hazardous for humans.
https://www.c-linksystems.com/company.html
9. Forager Aquabot 451.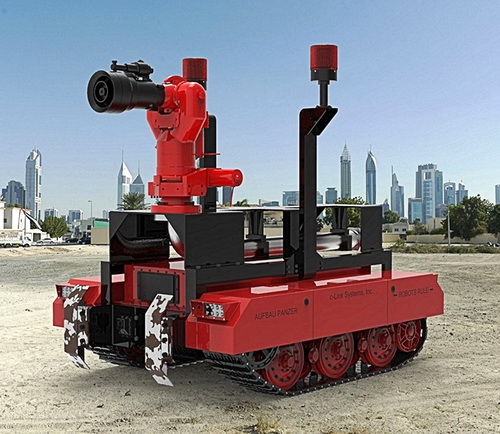 c-Link's Forager models include a firefighting version, designated Aquabot 451, that can connect with standard firefighting hoses to target and douse flames.  Currently, c-Link is outfitting the Aquabot 451 for possible deployment to Australia to assist in fighting brushfires. The Panzer tracked version is currently being converted from a 3D printed track system to a machined metal tread to withstand forest fire heat that can reach up to 1,500˚F.  Still another Forager in development, the Forager-W-3DP-C Ausf. V, is a 6-wheeled mobile 3D printer that lays concrete to create retaining walls with fiberglass or carbon fiber mix in as a binder.  c-Link Systems is an ardent supporter of STEM curricula and a provider of curricula.  Examples can be viewed at http://the-nref.org/c-link-systems, but contact c-Link directly for current offerings.
10. c-Link Volebot.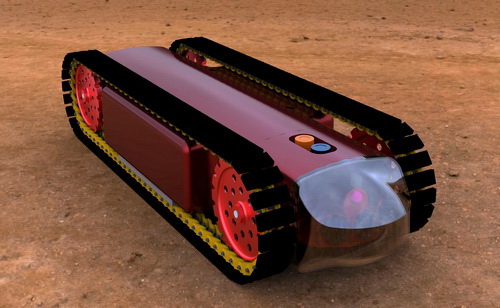 The smaller c-Link Volebot is intended for S&R operations where small size is an advantage in penetrating collapsed buildings or mining environments.  https://www.c-linksystems.com/vole-bot.html
11. AION ROBOTICS.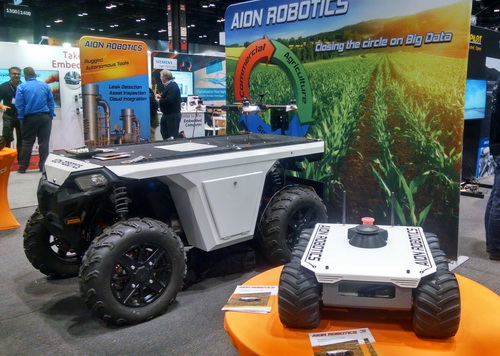 Located in Westminster, Colorado, AION offers a wide variety of UGVs as well as underwater ROVs and UAVs.  At left is the large scale AION Ranch Hand.  It has 90HP, with 2000lbs of hauling capacity and offers support for thousands of standard ATV, UTV or Pickup attachments.  Ranch Hand includes five operational modes, from direct teleoperation to multiple semi-autonomous and autonomous modes.  At right is one of several customizable smaller AION UGV workhorses.  Applications addressed by AION UGVs include solutions for the construction, security, agriculture, energy, and mining industries. https://www.aionrobotics.com/
12. ST Kinetics Jaeger 6.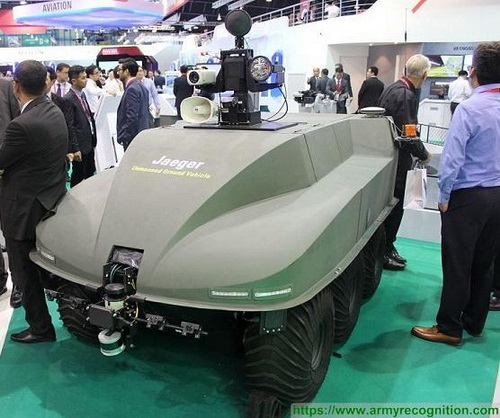 Shown at the 2018 Singapore Air Show, the ST Kinetics Jaeger 6 UGV can operate for 48 hours. Equipped with a skid-steer chassis, it can be outfitted with a wide range of payloads to address specific mission requirements. The standard 6×6 configuration has a maximum payload of 250 kg.  Designed for perimeter security, logistics support and other labor-intensive missions, it is controlled by Wi-Fi or encrypted 4G mobile network.  Gross weight of the 6×6 configuration is 750 kg with a maximum payload of 250 kg.  2.5 meters in length, it is electrically powered with an onboard diesel generator/alternator for operation up to 48 hours.
https://www.israeldefense.co.il/en/node/32987
13. kONGSBERG PROTECTOR Remote Weapon Station.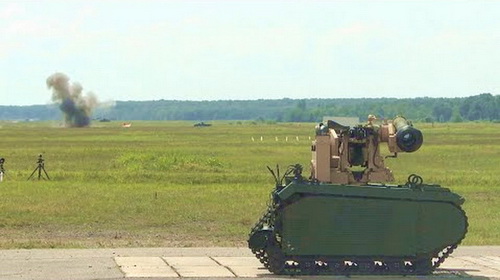 The Kongsberg remote weapon station (RWS) is a partnership of Lockheed Martin and Raytheon Company.  Kongsberg notes that "the PROTECTOR RWS is the world's most fielded Remote Weapon System with more than 20,000 units delivered and in use by customers around the globe.  The PROTECTOR family of Remote Weapon Systems are suitable for any missions - whether on land or at sea, on mobile or static platforms - for remote operation of payloads ranging from small calibre weapons to medium calibre automatic cannons." https://www.kongsberg.com/kda/products/defence-and-security/remote-weapo...
14. kONGSBERG PROTECTOR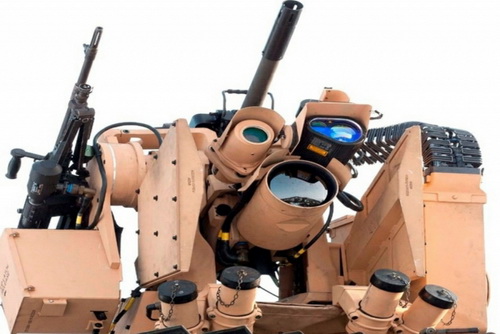 Detail.
15. Israeli RoBattle.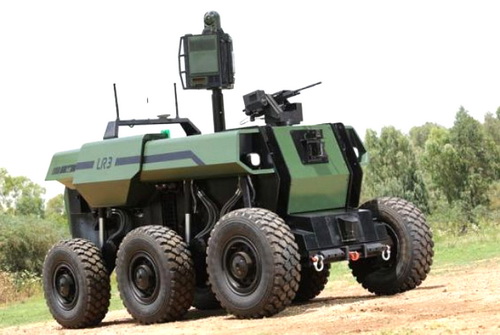 RoBattle is one of multiple Israeli UGVs.  It conducts recon and attack missions, as well as convoy protection. Its Pitbull Remote Weapons Station includes day/night optical sensors coupled with a remotely operated machine gun.  It can use its sensors to automatically return fire, and can be fitted with a robotic arm. It appears to be electrically powered.
https://www.iai.co.il/p/robattle
16. Belarus Bersek Export UGV.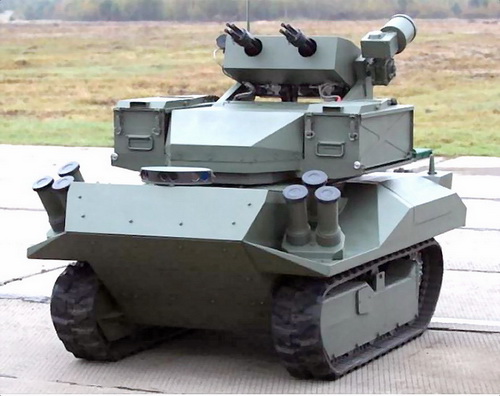 Manufactured by KBP Instrument Design Bureau, Tula, the Bersek is driven by an electric motor. It has a standard rate of fire of 6,000 rds/min and has a stated effective range of up to 1,000 meters.  An operator can control the Bersek at a distance of up to 5 km. Read more about the vehicle at ArmyRecognition.com.  Photo credit: Melanie Rovery (@MelanieRovery) Twitter.
https://www.armyrecognition.com/weapons_defence_industry_military_techno...
17. Russian Marker UGV.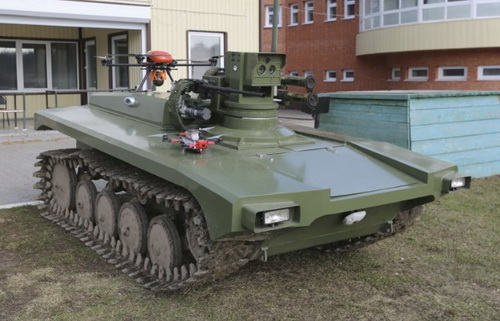 In late 2019, Janes.com reported on Russia's updated Marker UGV.  The update included an improved track systems and larger body with 5 roadwheels, idler, drive sprocket and two roller returns.  Notably, the system is equipped to launch small drones. A multispectral system uses neural network processes to support autonomy.  Sensor systems range from laser, thermal, IR and early warning to ID and tracking.  Automatic routing was reported for both off-road and urban environments.  Photo courtesy Jane's.
https://www.janes.com/article/93237/russia-reveals-its-updated-marker-ugv
18. Russian Uran-9 Combat Vehicle.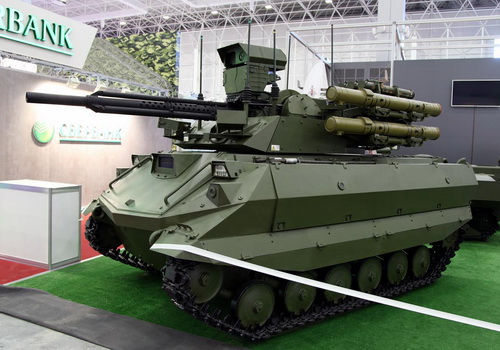 The Uran-9 has been field-tested in Syria and reportedly has been offered for export by the state-owned Rostec Corporation. Although it has significant gun and missile armament, it was reported by the NationalInterest.org blog that Senior Research Officer Andrei Anisimov told a conference at the Kuznetsov Naval Academy in St. Petersburg, May 2018, that further development of the system was needed, suggesting it could be a decade or more to perfect this UGV for classic combat operations.
https://nationalinterest.org/blog/buzz/russias-uran-9-robot-tank-went-wa...
Conclusion
This sampling is the tip of the iceberg in a burgeoning arena that extends well beyond military designs into diverse research and commercial markets.  Photos courtesy of the above sources.