U.S. Army Tests Marksmanship-Enhancing Exoskeleton
Submitted by tatwood on Thu, 11/28/2019 - 16:54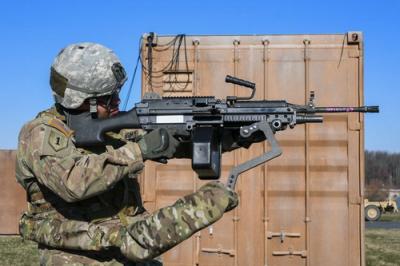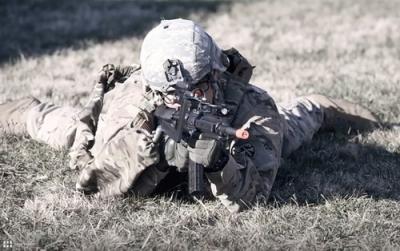 As reported by Jared Keller in Military Tech, Army Sgt. Michael Zamora used a prototype Third Arm exoskeleton to easily aim an 18-pound M249 light machine gun during testing at Aberdeen Proving Ground, Maryland, March 14. Photos: 2018.U.S, Army/Conrad Johnson. As they did with an initial test group back in 2017, the soldiers described the harness as a major boon, reducing fatigue, improving accuracy and boosting overall lethality. But the third arm is still being refined.

"We get comments from soldiers who tell us different things about the way it feels on their body… about the way it redistributes the load," ARL engineer Dan Baechle said in an Army release. "Some like it, some give us tips about the ways it could be improved, and we're using that input to improve the device and improve the design so that it not only works well, but it also feels good." For details, please click here.
Thanks to CDR David Place (USN/Ret), davidplace47[at]gmail[dot]com, and Robin E. Alexander, President ATC, alexander technical[at]gmail[dot]com, for their assistance with this report.

David offers a free, comprehensive news report on unmanned systems and robotics, the Unmanned Systems News (USN), in PDF format that is distributed every week or two, as well as serial news flashes, from which this news update was sourced. To be included in his viewership, simply send David a subscribe request to davidplace47[at]gmail[dot]com.