U.S.-Led Drone Fleet Starting To Come Together in Middle East
Submitted by tatwood on Tue, 10/18/2022 - 14:50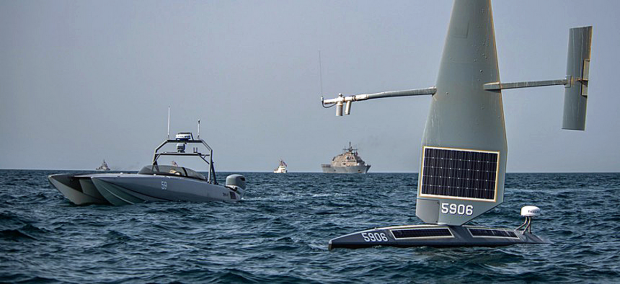 In an October 13 news update by Caitlin M. Kenney, Defenseone.com reported that "[a] proposed fleet of 100 unmanned craft in Middle East waters is starting to come together, with the U.S. Navy on track to provide 20 surface drones by next month and two other countries promising to chip in, according to the 5th Fleet commander."  But it remains unclear just how many drones Bahrain and Kuwait will provide, or which other countries will ultimately fill out the envisioned fleet. "We'll see. And we'll leave it all up to them," Vice Adm. Brad Cooper told reporters at the Pentagon. 
Defenseone.com further noted: "In February, Cooper announced a goal of having 100 unmanned surface vessels patrolling the Persian Gulf, Red Sea, and other regional waters by the end of summer 2023. The surface drones in the fleet will mostly be of two types: fast response vessels like the Devil Ray and long-duration monitors like the Saildrone. The region is already home to the year-old Task Force 59, the Navy's hub for experimenting with unmanned systems and artificial intelligence."
A MARTAC T-38 Devil Ray USV is shown, left, and a U.S. Navy Saildrone Explorer USV, right.  MARTAC is headquartered in Melbourne, FL.

Thanks to CDR David Place (USN/Ret), davidplace47[at]gmail[dot]com, and Robin E. Alexander, President ATC, alexander technical[at]gmail[dot]com, for their assistance in sourcing this report, the background for which appeared in their # 22 - 14 - 13 OCTOBER 2022 edition of the UNMANNED SYSTEMS NEWS (USN).